Birch Hills Volunteer Fire & Rescue
The Birch Hills Fire Department is located at 108 Simpson Avenue and is jointly owned by the Town of Birch Hills and the R.M. of Birch Hills No. 460.  Please remember to Call Before You Burn.  If your a planning a controlled burn you must call 1-866-404-4911.  If you do not notify dispatch and the department is called to your property, you will be charged for the call.
Members
The Departments has approximately 20 members, including six executive.
Fire Chief:  Lyle Evans
Deputy Fire Chief:  Todd Devenis
1st Captain:  Kyle Jensen
2nd Captain:  Greg Manson
3rd Captain:  Chris Braaten
Secretary:  Greg Manson
If you are interested in becoming a member of the Birch Hills Fire Department, please contact the Town Office for an application or for more details.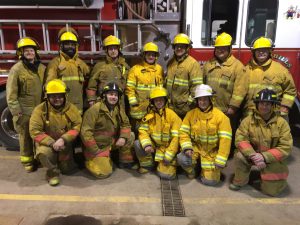 Equipment
Tanker Unit
Pumper Unit
Snuffer Unit
Command Unit
Jaws of Life
Highway Rescue Supplies & Capabilities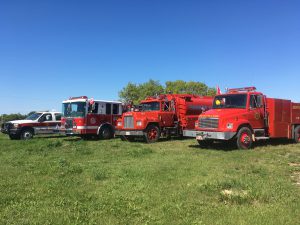 Cost of Fire Suppression
RM residents are responsible for the charges associated with the Fire Department responding to a call and are encouraged to carry firefighting insurance.  If you are planning a control burn, please call the control burn number at 1-866-404-4911 to avoid unnecessary charges.
Pumper Unit – $275.00/hour
Snuffer Unit – $275.00/hour
Tanker Unit – $250.00/hour
Command Unit – $200.00/hour
Fire Fighter – $30.00/man/hour
Mileage – $1.50/km/hour
Medical Calls – $250.00
Jaws of Life Calls – $500.00
Restocking Supplies – At Cost
Citizen's on Patrol
MISSION
"Birch Hills Citizens on Patrol in partnership with our community and the RCMP
is committed to assist in serving the needs of the citizens of Birch Hills
by providing an efficient, effective and Voluntary
crime detection and prevention program"
OBJECTIVES
This program is designed to provide an opportunity for Screened and approved individuals to participate in the observation and reporting of any criminal or potentially criminal activity to The Royal Canadian Mounted Police.
These volunteers become the 'eyes and ears' for Birch Hills and the RCMP while on patrol. This program does not promote, require and will never ask for any involvement of members in the apprehension of criminals. The purpose is solely to observe and report – to be the 'eyes and ears' for the town and Law Enforcement.
Position: PATROL MEMBER
Qualifications:
| | | |
| --- | --- | --- |
| Minimum 18 years of age in good health | You must be able to provide your own vehicle to patrol with*** | Must pass Police background check and VSS check |
| Good interpersonal skills and communications skills | Possess positive attitude and ability to work in a team environment | Ability to work responsibly with minimal supervision |
| Ability to work in a professional manner | Willing to participate in training sessions | Be willing to work at least one shift a month at the very minimum |
| Valid Drivers License with no restrictions | *** Some rare exceptions may apply. | No Criminal Record |
Tasks and Responsibilities:
| | |
| --- | --- |
| Be the "Eyes and Ears" of the community | Patrol the community by vehicle |
| Identify suspicious or concerning behaviour and generate report for Patrol Leader | Maintain awareness of community crime deterrence activities and initiatives |
| Follow COPP policies and procedures | Maintain a positive and respectful presence in the community |
| Treat all people with courtesy and respect | Maintain confidentiality at all times |
| | |
Residents that are interested should pick up a recruitment package at Town Hall.
Like our Facebook page to stay connected for safety tips and information