Birch Hills Sportsgrounds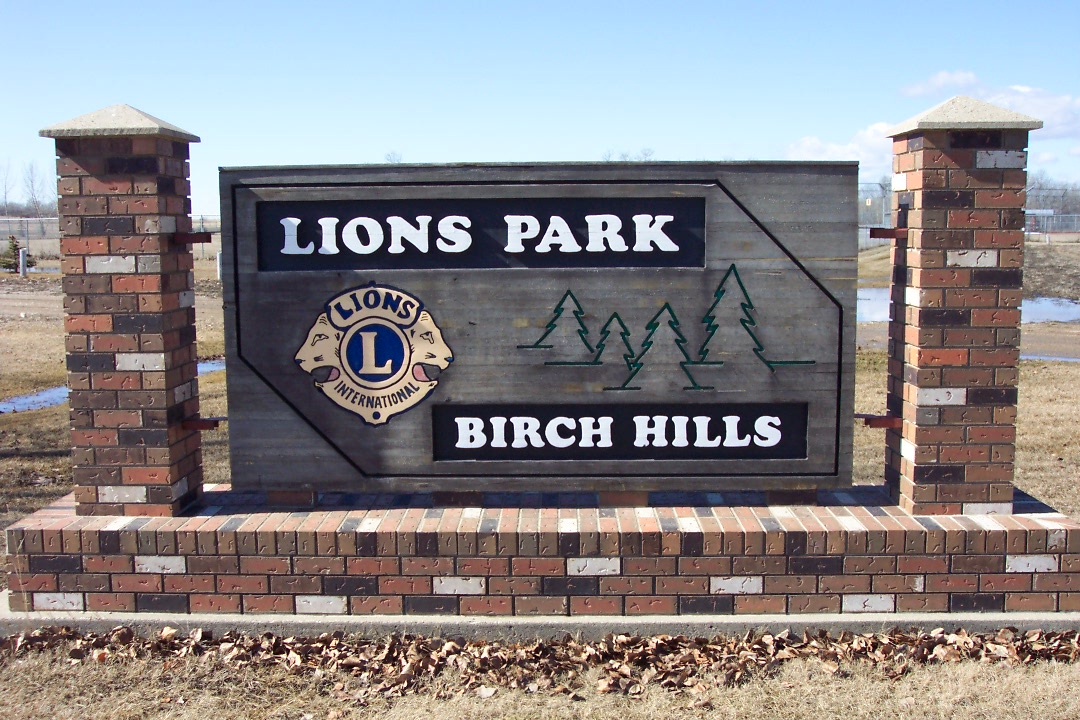 Camping
The Lion's Park Campground is located between the Birch Hills Golf Course and Lions Ball Park. There are six electrified sites built up on gravel pads. The power service can accommodate a few more units if groups are willing to share power access and gravel pads. The electrical service is 20 amps, and available on three poles strategically located between sites.
All six sites come complete with picnic table, pole barbeque and garbage can stand. An ample overflow area is available where tents can set up on the grass. No services
Large trash bins are located in the golf course parking lot and beside the sports grounds bathrooms. There is one washroom building with two separate bathrooms. Each bathroom has a toilet and sink with cold running water, paper towel, and toilet paper. Water is from the Town of Birch Hills municipal source and is safe for drinking. A faucet and hose are located on the outside of this building where campers can fill up their RV units. Campers are also welcome to dump sewage into the 1000 gallon septic tank when vacating their site.
Advance bookings can be made by contacting the golf course clubhouse (April – October) at 749-2211. Otherwise, please drive up, choose a site and pay at the clubhouse. For off season bookings contact Rec Dept 749-7451
Electrical Sites

$20.00 per night

Non - Electrical Sites

$15.00 per night

Non-Camper Sewage Dump Fee

$10.00
Lions Park Ball Diamonds
The Birch Hills Sports Grounds are located half a kilometer north west of Birch Hills on the highway #3 access road. The Lions Ball Park features three quality ball diamonds complete with shale infields. The Park includes a picnic area, 6 campsites, Concession Stand and Playground area for kids. Minor Ball Girls and Boy teams in Birch Hills compete in the Prince Albert Leagues during May and June. A beginner "Toss Ball" League is organized in May and June for children 5 – 9 years of age. Many Slo-Pitch and Minor Ball tournaments are held at Lions Park. Drop in Slo-Pitch is offered Fridays at 7pm.
Contact Rec office for other inquires or to book the Sports grounds for your next family/work gathering or tournament.
email – birchhillsrec@sasktel.net or call Laurie @ 306-749-7451
Diamond Rental for Local Youth Game

$25.00 per day

Diamond Rental for Out of Town Youth Game

$50.00 per day

Tournament Rentals for Local Teams (2 - 270' regulation diamonds, 1 - 230' diamond)

$300.00 - $400.00 per day

Tournament Rentals for Out of Town Teams ( 2-270' regulation diamonds, 1-230' diamond)

$450.00 - $500.00 per day

Damage Deposit Required for Local Teams

$500.00

Damage Deposit Required for out of Town Teams

$1000.00

Kitchen and Coverall (BBQ Avaliable)

$50.00 per day

Tournament Kitchen Rentals

$100.00 per day

Drop in Slo-Pitch

$2.00 per night